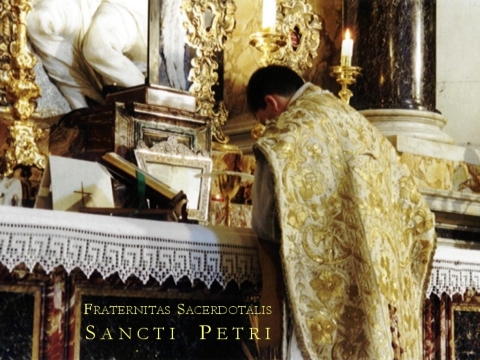 Ok folks, rumors are hitting the fan again regarding "the motu proprio." Although these rumors have been going on for almost a year now, so I figure I'll comment on them (along with providing some very inspiring pictures.)
Let's assume the rumors are true for now. If they are true, that would be a great sign of hope. However, we have to take into consideration that things will not change overnight, if they change at all. I can say this for two reasons. First is because we have no idea, not even a rumor, as to the content or wording of this document. If it worded too strongly, the bishops will reject it and ostracize any priest who wishes to do a TLM on his own initiative. On the other hand, if it's worded too weakly or obscurely it will have n
o effect because of loopholes and ways to get around allowing it. For the sake of argument, let's assume that it's worded just perfectly to allow any priest that wishes to do so say a public TLM. Even if this is so, things still won't change overnight. The TLM has been placed under indult for the last 20 years and was suppressed for 20 before that. Granted, priests for the
FSSP
and the
Institute of Christ the King
know how to say this Mass well, but bishops who are still hostile to the TLM will keep these orders from entering. That leaves diocesan priests to say the TLM, which takes at least a year to learn to say properly.
Any way you cut it, it will still be a while before we see the TLM in regular usage, and that's only under the most perfect of circumstances. Now, I'm not trying to rain on anybody's parade, but we have to look at the situation realistically.
That being said, I am still excited to see something like this happen. I have been praying for it!! Now is the time we must pray, and pray without ceasing. I implore all my readers to say at the very least, one Our Father, one Hail Mary, and one Gloria (Glory Be) a day for the restoration of a Mass in continuation with apostolic tradition that displays properly the grace, magnificence, holiness, and solemnity of the Holy Sacrifice.

(Requiem Mass)